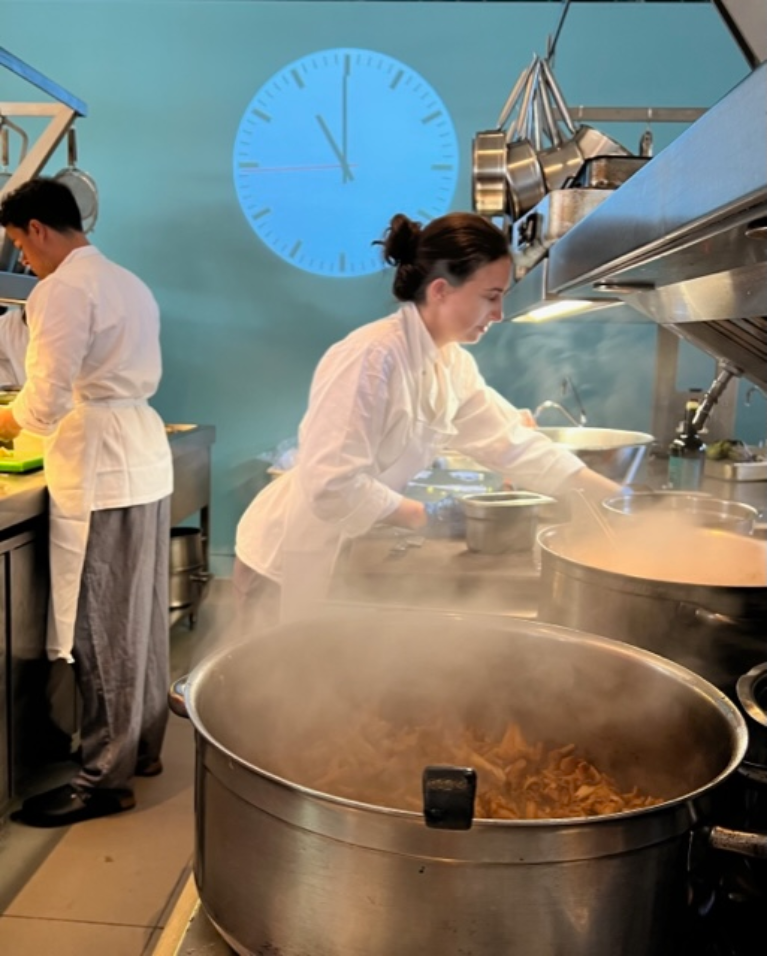 A Tuscan Autumn Dinner
Photo Michal Safti October 2022
In Autumn, the tomatoes and aubergines of summer give way to pumpkins and radicchio.
Shop The River Cafe has Mozzarella di Bufala with wood-roasted Delica Pumpkin, Beef Fillet wrapped in Coppa, braised Cime di Rapa, Borlotti Beans and Radicchio di Trevise, roasted slowly to bring out its bitter-sweet flavour.
After many months, our fresh Walnut, Chocolate and Amaretto Cake is back. All packed into the Autumn Tuscan Box for you.

Mozzarella di Bufala

Wood-roasted Pumpkin
We roast these Violina pumpkins with thyme, to serve with Mozzarella di Bufala and Ligurian olives as an antipasti.

Beef Fillet in Coppa
The fillet is studded with thin slivers of garlic and rosemary leaves, seasoned with black pepper, wrapped in Coppa di Parma and tied with string.

Braised Cime di Rapa
The 'tops of the turnips', Cime di Rapa is a green vegetable with an incredibly sweet and earthy flavour. We braise the leaves gently in extra virgin olive oil with chilli flakes and fennel seeds.

Borlotti di Lamon
Slow-cooked with sage, garlic, tomatoes and finished with new season's Selvapiana extra virgin olive oil. 

Roast Radicchio di Trevise
This vividly purple vegetable is related to the round radicchio and chicory.
When roasted gently it has a deep bitter-sweet flavour, and its leaves catch the juices from whatever is cooked in the pan with them. We have roasted these simply with garlic, thyme and olive oil.


 Grissini
Traditional bread sticks made with semolina flour in the River Cafe kitchen.

Pecorino Riserva del Fondatore
A traditional aged ewe's milk cheese from Sardinia.

Chocolate, Walnut & Amaretto Cake
Fresh walnuts are coarsely chopped through this cake. It is soaked with Amaretto and topped with a molten layer of dark chocolate.

 The River Cafe Look Book is available to pre-order now.
---