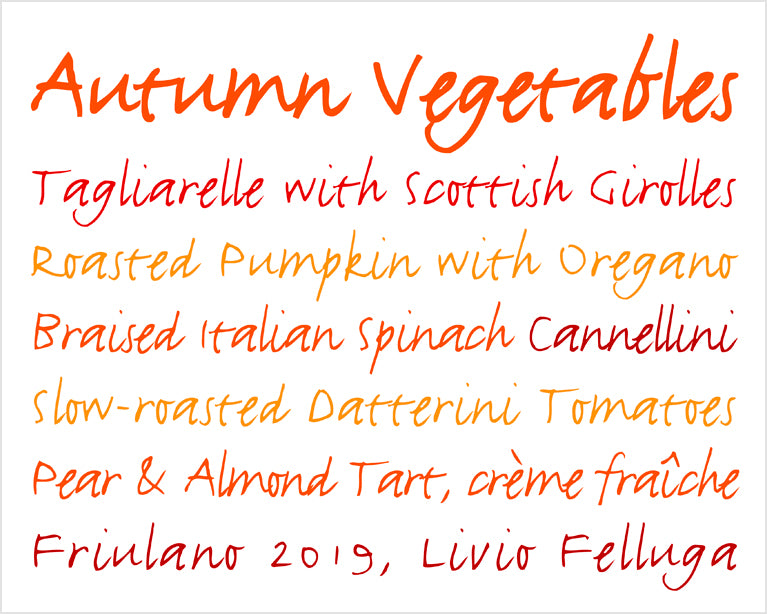 Autumn Vegetable Box
The vegetables in autumn are special; wild mushrooms, delicate pumpkins, the last of summer tomatoes, but preparing them takes time and effort—cleaning, chopping, braising and roasting.
Shop The River Cafe will do all this for you.
This is our new Autumn Vegetables Box Set, serving two to four, with a delicious Italian vegetarian meal.
Unpack the box, heat the vegetables, cook the pasta, and toss with warm girolles. The pear and almond tart is divine. 
Tagliarelle with Girolles
The girolles need only be warmed gently and tossed with the Cipriani tagliarelle and a sprinkling of Parmesan, all included in the box.
Roasted Pumpkin
Warm in a 150 degree oven for five minutes. 
Datterini Tomatoes
Italian Spinach 
Braised with slivers of garlic.
Pear and Almond Tart
Our seasonal Almond Tart baked with Williams pears.
Our favourite vegetarian, Paul McCartney, is a guest on this week's episode of River Cafe Table 4. We talk about food, memories, and he will read you the recipe for roasted aubergines with tomato. 
Download on Apple Music - or wherever you get your podcasts. 
---