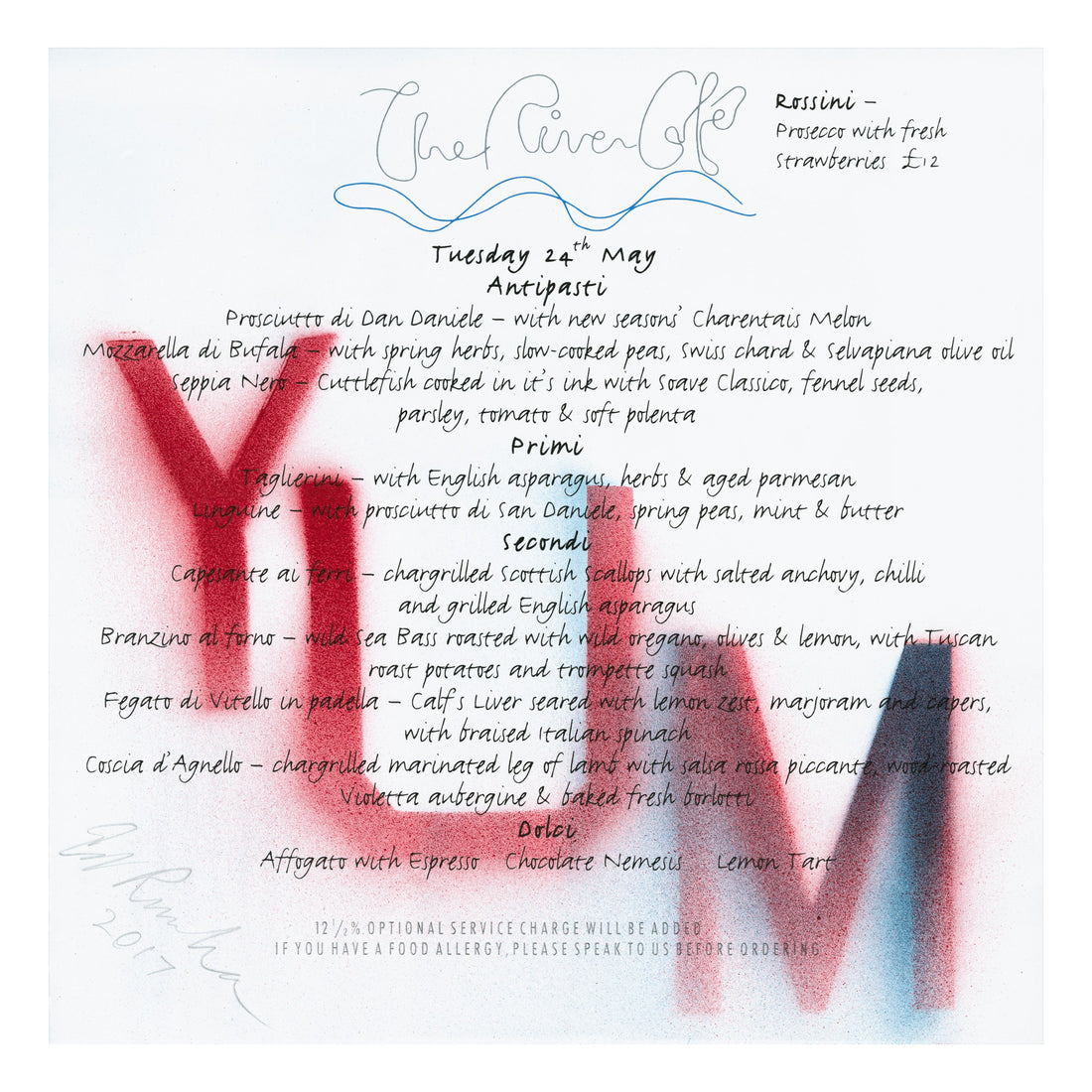 Bestsellers 2021
Ed Ruscha for River Cafe Cookbook 30, 2017
We don't believe in ever looking back, especially in the beginning of the new year. However, before we announce all the dishes Shop The River Cafe will feature in 2022, we thought we would share with you the best sellers of 2021. Here they are.

Happy New Year to you all! 
The Shop is now open for orders with delivery beginning January 18.
Devon Crab 
Freshly cooked and handpicked, south-coast crab marinated with Sicilian lemon juice, dried chilli and extra virgin olive oil.

Roasted Wild Sea Bass
Line caught fresh wild Sea Bass fillet from Dorset.

Ribollita
Tuscan bread and cannellini bean soup.

Artichokes alla Romana with Thyme

Taglierini with Slow-Cooked Tomato Sauce
Beef Fillet wrapped in Coppa
With thin slivers of garlic and rosemary leaves, seasoned with black pepper and wrapped in Coppa di Parma.
Puntarelle alla Romana
The puntarelle slivers are dressed with a mixture of anchovy, red wine vinegar, dried chilli flakes and extra virgin olive oil.
Wood-Roasted Delicata Pumpkin with Oregano

Fresh Walnut Chocolate and Amaretto Cake

Lemon Tart 
Tiramisu
Savoiardi biscuits soaked in Vecchia Romagna brandy and Volcano espresso layered with Crema di Mascarpone.

Baci Di Dama
Piemontese hazelnut and dark chocolate biscuits.

---