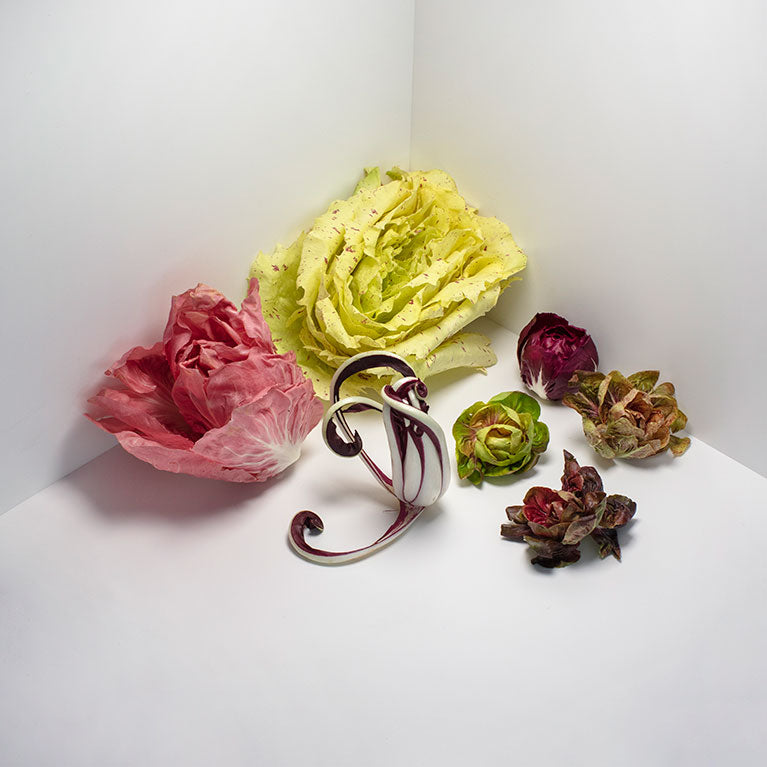 Bitter Leaves
Photo Matthew Donaldson
Treviso is a small city in the Veneto where the beautiful Radicchio di Treviso is harvested after the first frost. The leaves have a crisp texture, bitter bite, and luminescent scarlet-and-white colours.

While summer salad leaves are soft and delicate, the Italian winter salad leaves are crunchy and bitter, holding up to the recently pressed, peppery olive oil, with pomegranates and citrus, or with fresh warm walnuts and a Robiola dressing.
In The River Cafe, we are wood-roasting whole heads of treviso with thyme, intensifying the leaves' hidden sweetness and layering leaves of dark, bitter radicchio with thinly sliced potatoes.

Shop the River Cafe will deliver the cooked vegetables and salad leaves, the dressing and walnuts prepared. 
We have two salad bowls for you - a design classic by Arne Jacobsen in stainless steel and one of hand-blown glass from Venice. 

Beauty in winter

Insalata Radicchio Misti 
Roast Radicchio di Treviso
Simply with garlic, thyme and olive oil.

Walnut Salad
Bitter salad leaves with Grumolo, Tardivo, and Radicchio from Treviso, with wood-roasted fresh walnuts and Robiola di Roccaverano dressing.
Potatoes and Radicchio al forno
Thinly sliced Roseval potatoes, wood-roasted with torn bitter radicchio.

Yali White Swirl Salad Bowl 
Designed by Rosi Marie-Kahane of Yali Glass, and mouth-blown on the island of Murano, with white lines on the clear glass.

Arne Jacobsen Salad Bowl 
Designed by famed Danish architect Arne Jacobsen, this stainless steel salad bowl is a classic.
---