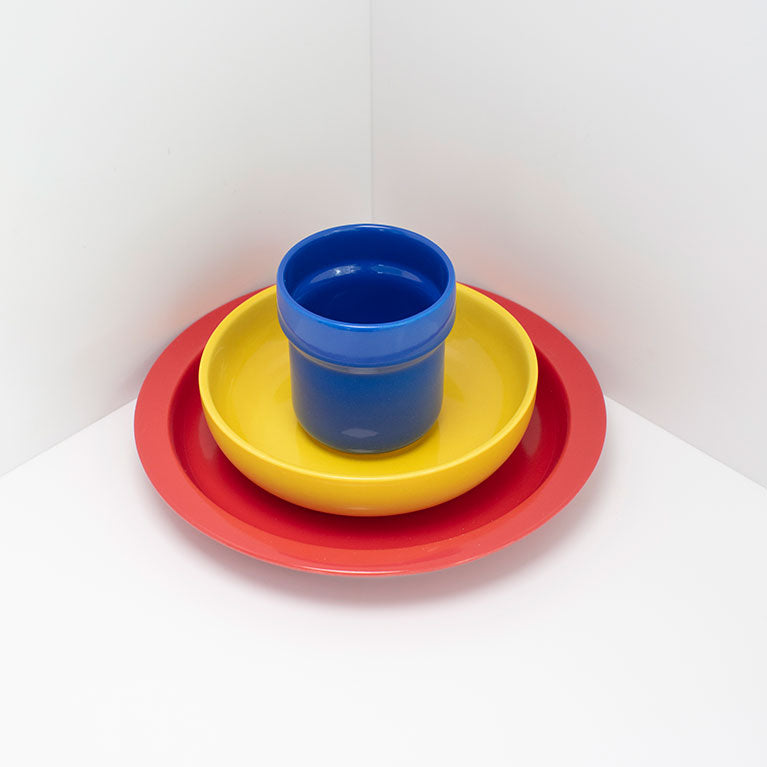 Dining by design
Susan Elias    Roman Tree    susaneliasart.com
In The River Cafe, good design and food go together.

For the next week we are going to focus on the objects we have chosen to use in the restaurant and in our homes. The Shop kitchen will be back up and running again for deliveries on 8 July.

Until then, here are some new additions to our collection, as well as some of our favourites.
Design matters to us, as do you.
David Mellor Children's Porcelain Set
This bright three-piece porcelain set is designed with children in mind—high-rimmed plate, shallow bowl and tapered beaker. The primary colours add to the experience, and match the cutlery set also designed by David Mellor in 1975.
David Mellor Children's Cutlery
This wonderfully colourful cutlery set is ideal for ages two to ten.
Flo Lamp
Designed by Norman Foster in collaboration with specialist Italian lighting manufacturer Lumina, these lamps have an adjustable aluminium frame, and come in yellow, black or brushed nickel finish.
Majamoo Pair of Trivets
These playful Finnish pot stands are designed by Jani Martikainen, to protect your countertop or table. Made of birch plywood, the set includes two trivets in different sizes, medium and large.
Iittala Saucepans
This range of professionally-inspired pans is designed by Björn Dahlström for Iittala. They are so well designed you may bring them straight to the table.
Bowls by John Pawson
This beautiful bowl, designed by architect John Pawson, is a perfect seamless hemisphere. Its simplicity is balanced by the feat of invisible engineering that allows it to sit obliquely to the surface on which it is set.  
Available in two sizes, 35cm or 17cm diameter.
Crevasse Vase by Zaha Hadid
Zaha Hadid was a wonderful friend to us all, coming for lunch with her friends every Sunday, always siting on 'table 4.' She designed this vase to stand as a pair presenting a single block mirroring each other.
Photography by Matthew Donaldson.
Visit Shop The River Cafe to place your order.
---