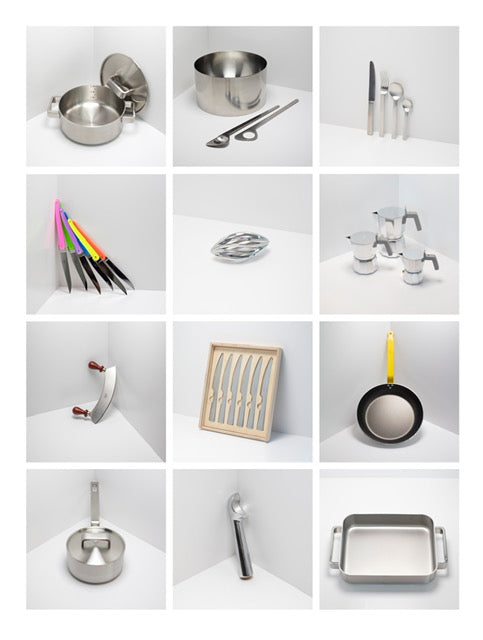 Gifts For Cooks
At
Shop The River Cafe
we seek beautiful kitchen design. We love the 140-year old Finnish design house Iittala and its professionally-inspired pots and roasting pans, designed by Björn Dahlström.
They last forever.
From Italy, we offer artisanally-made carving knives, Alessi coffee pots designed by David Chipperfield, and a sharp wood-handled mezzaluna, the best way to chop herbs.
There is elegant cutlery from David Mellor, a defiantly modern juicer from Alessi, and a Zerroll ice cream scoop that somehow feels both old-fashioned and contemporary.
The French manufacturer de Buyer has designed and crafted high quality kitchenware since 1830 -  their non-stick skillets with colour-coated, heat-resistant handles, are joyous.
This holiday, give something beautiful to the cook in your life .
Iittala Casserole 3 litre
Arne Jacobsen Salad Bowl
David Mellor Odeon Cutlery Set
Forge de Laguiole neon steak knives
Alessi Citrus Juicer
David Chipperfield x Alessi Coffee Maker
Coltellerie Berti Mezzaluna
David Mellor Set of Steak Knives
De Buyer Non-Stick Sauté Pans
Iittala Saucepan 2 litre
Zeroll Ice Cream Scoop
Iittala Medium Roasting Dish
Medium Size Christmas Gift Box 

Extra Virgin Olive Oil, Selvapiana (75cl)
Dried porcini mushrooms (30g)
Carnaroli rice (500g)
Whole peeled tomatoes (1000g)
Organic tagliolini pasta (250g), contains: wheat, egg
Chocolate-covered almonds and hazelnuts (250g), contains: milk, almonds, hazelnuts, soy
Fontodi Chianti Classico 2019 (75cl)
Bellavista Franciacorta Brut 'Alma' NV
Volcano, espresso-ground 'Mountain Blend' (200g)
4 fine linen napkins in different colours 50x50cm by Designers Guild
1 River Cafe canvas tote bag, designed by Michael Nash Associates
1 pair blue dining candles by True Grace
1 box River Cafe long matches
This Gift Box is available for shipping throughout mainland UK.
Photography by Matthew Donaldson

Visit 
Shop The River Cafe
to place your order and receive 15% off your first purchase with the code 'WELCOME15'.
---