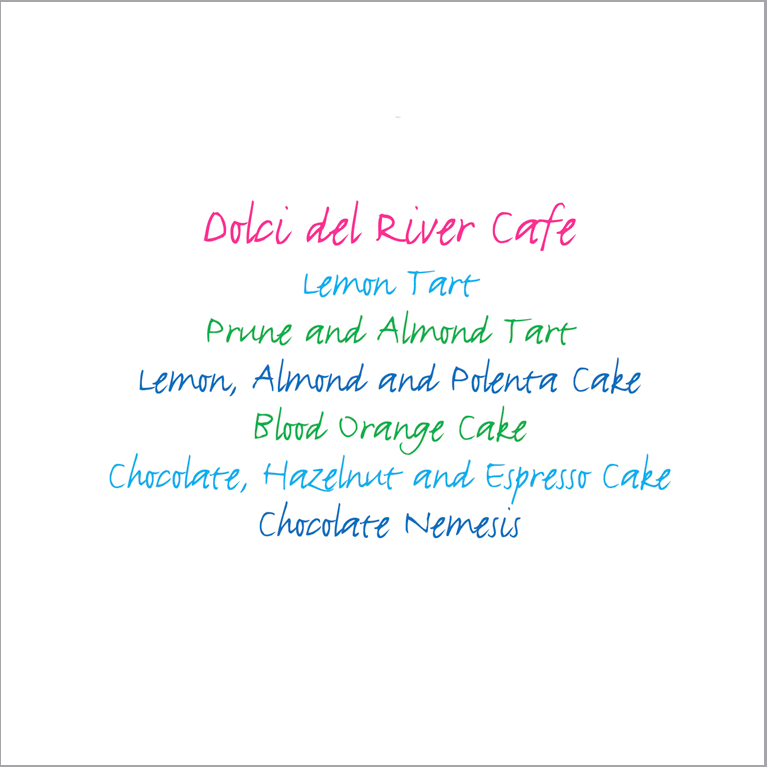 Have Your Cake
In The River Cafe, we cook with exceptional ingredients. Prunes are soaked in Earl Grey tea and Vecchia Romagna for the Almond Tart; Virunga 70% chocolate enriches both the Chocolate Nemesis and Hazelnut Espresso Cake. Nuts are roasted before grinding, butter is from Italian buffalo milk, eggs are free range organic.

Have your cake and eat it.
For afternoon tea, dessert or breakfast.
Lemon Tart
Made with the juice and zest of Italian Sorrento lemons.

Prune and Almond Tart 
Roasted almond frangipane with prunes soaked in Earl Grey tea and Vecchia Romagna.

Lemon, Almond and Polenta Cake
Made of freshly ground almonds with plenty of lemon juice. The polenta adds texture.

Blood Orange Cake
Our favourite loaf cake in winter when the Sicilian oranges are at their best. 

Chocolate, Hazelnut Espresso Cake
Piemontese hazelnuts, Volcano espresso coffee and 70% Virunga chocolate. 

Chocolate Nemesis
Any of of the River Cafe cakes and tarts can be gifted for birthdays or special occasions, but our Chocolate Nemesis can also be personalised with a message—just let us know when you place your order.
Photography by Matthew Donaldson
---