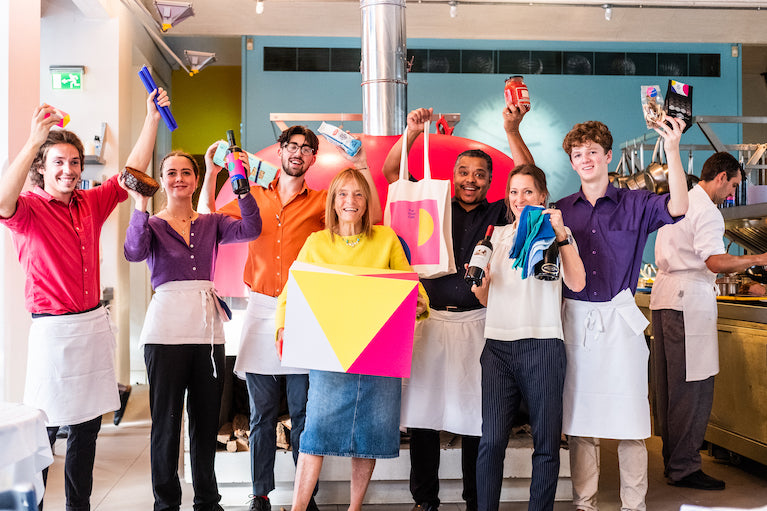 Holiday Boxes
There is nothing medium about our Medium Gift Box—the bright pink and yellow packaging, the gorgeous gifts inside. 
Unpack the best Italian ingredients — The River Cafe's estate-bottled Tuscan olive oil, delicately dried porcini and Carnaroli rice for risotto, a large jar of whole Pugliese tomatoes, and a box of Cipriani Tagliolini, with the recipe for our favourite pasta. 
When The River Cafe opened in 1987, Dada Rogers gave us a present — her recipe for a Christmas Cake from Trieste, rich with dried fruits, nuts and dark chocolate. Open a bottle of Bellavista Franciacorta to drink with the cake, or why not, the Fontodi Chianti Classico.
This year the colours are shades of blue for fine linen napkins from the Designers Guild and long candles by True Grace, with our bright box of matches to light them.
And because too much is never enough (even for a medium gift box), there is a large jar of dark chocolate-covered hazelnuts and almonds, Volcano ground coffee to make the perfect espresso and should you want to take any of the gifts with you, our iconic tote bag.
Order gift boxes at Shop The River Cafe or call us on 0207 386 4280.
We are here to help you with international deliveries, corporate gifting, personalised messages and more. 
Linen napkins
Four fine linen napkins by Designers Guild
Selvapiana Extra Virgin Olive Oil, Cipriani Tagliolini and Paolo Petrilli Pugliese Tomatoes 
The same jarred Pugliese tomatoes we use everyday in the restaurant to make slow-cooked tomato sauce and the new season's Tuscan olive oil from Selvapiana. We will include the recipe for you. 
Dried Porcini Mushrooms
Carnaroli Rice
Fontodi Chianti Classico 2019, Bellavista Franciacorta Brut 'Alma' NV, Dada Cake and chocolate-covered almonds and hazelnuts from Turin
River Cafe Canvas Tote Bag
Designed by Michael Nash Associates

Volcano, espresso-ground 'Mountain Blend' Coffee
A pair of blue dining candles by True Grace
River Cafe Matches designed by Michael Nash

Photography by Matthew Donaldson

Visit Shop The River Cafe  or River Cafe Gift Boxes to place your order. 
---