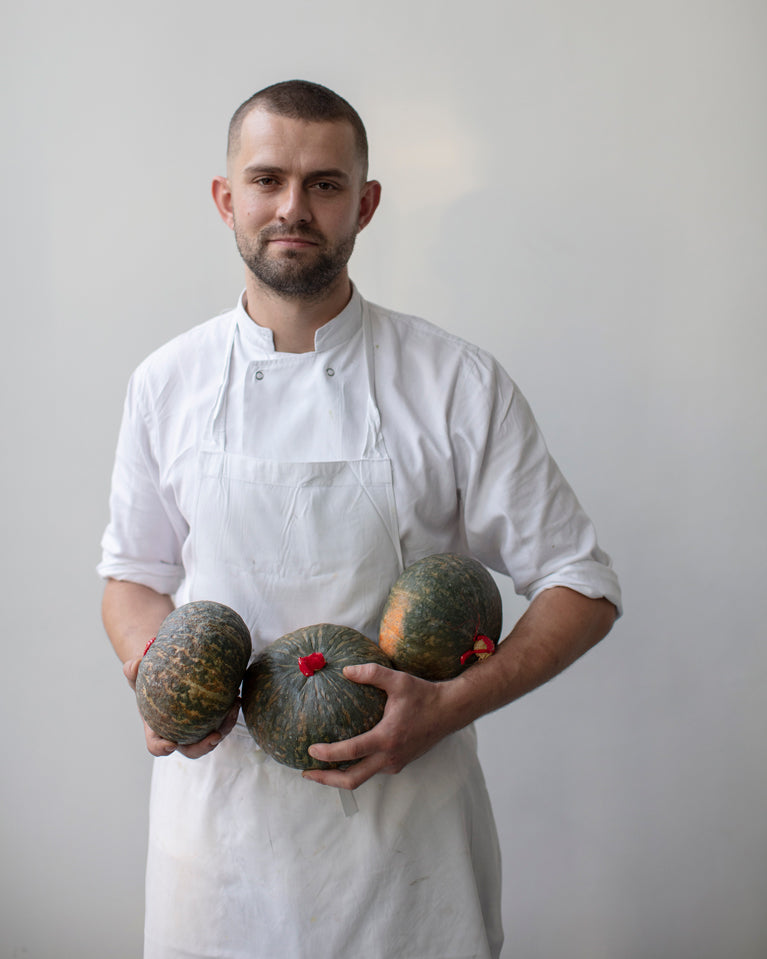 Joy of Cooking
Doug Sims       photo Matthew Donaldson
Our series on chefs of The River Cafe continues this week with Doug Sims, our new Head Chef of Shop The River Cafe. Doug cooks beautifully—his pancetta-wrapped pheasant, braised cime di rapa, potatoes and radicchio may be delivered to your door tomorrow.

"I have always been taken by the gratification of cooking and the joy of seeing the effect good food brings.

When thinking about what to cook, the first idea that comes to mind is Italian food. It can appear misleadingly simple, but a great deal of thought goes into each dish and ingredient. You can't hide behind techniques or unnecessary embellishments.

Autumn is my favourite season. The cold weather brings big appetites and the best vegetables—artichokes, pumpkin, mushrooms.

I love working at The River Cafe with seasonal ingredients that are well-considered and cooked with knowledge.
Every day I come away having learned something new."
Pheasant wrapped in pancetta with ricotta
"Wrapping pheasant in pancetta flavours the bird while it cooks, keeping it moist. The ricotta, stuffed inside, absorbs the juices and creates a delicious gravy. We will send you the pheasant ready to roast with the ricotta and fresh herbs.
Braised cime di rapa
Potatoes and radicchio al forno
Pear and almond tart
Ruthie Rogers and Edward Enninful   photo by Leonie McQuillan



Edward Enninful has strong values. As Editor in Chief of British Vogue and Editorial director of European Condé Nast, he has created a new vision for fashion media, placing a diversity of perspective as its priority. "In my Vogue…everybody's welcome. All shapes, all sizes, all colours." 

On River Cafe Table 4 Edward and I discuss this inclusive world, his love affair with Britain, and his memories of a Ghanaian childhood. He confesses his inability to cook. "Somehow I missed the cooking gene, but I certainly have the eating one."

River Cafe Table 4 is available wherever you get your podcasts.
---