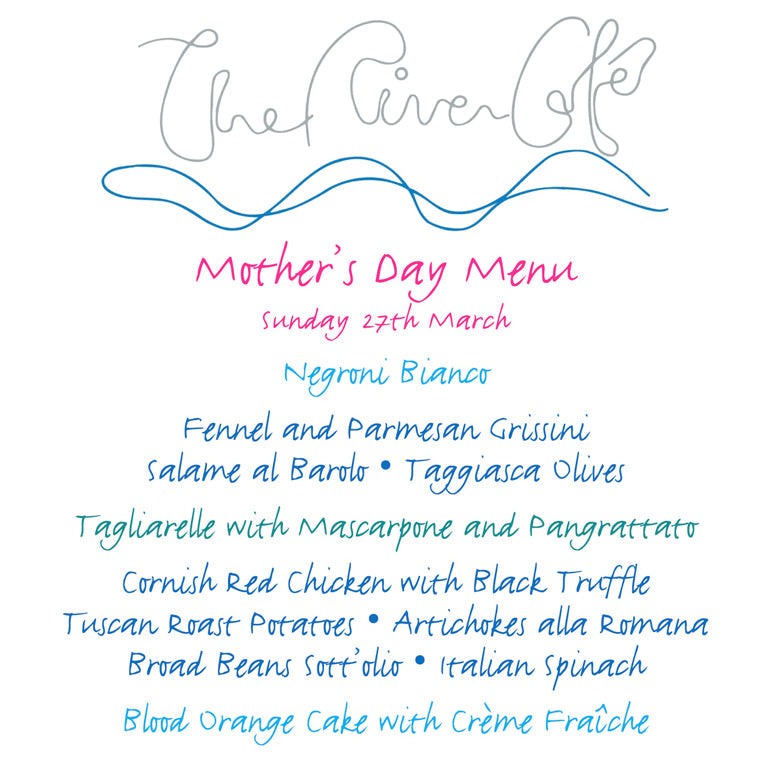 Mother's Day
Mother's Day is on Sunday 27th March.
We will do everything, so you may give your mother — or someone else's mother — a fantastic Italian meal.
The joy of early Italian springtime forms the seasonal menu — whole, roasted Cornish red chicken, new season's broad beans sott'olio, artichokes alla Romana, spinach, and Tuscan potatoes. To start, a celebratory tagliarelle with mascarpone and pangrattato, for dessert, a citrus Sicilian blood orange cake.
We are sending you a bottle of The River Cafe Negroni Bianco mix, for an easy cocktail, to have with a plate of salumi, black olives and fresh grissini and our sommelier has selected an optional bottle of Chardonnay Isole e Olena.
Leave the food to us, and have a happy, delicious, Mother's Day.
For London delivery: order by Noon Thursday, 24th March for delivery on Friday 25th or Saturday 26th.
For Nationwide delivery: order by Noon on Wednesday 23rd March for delivery on Friday 25th or by Noon on 24th March for delivery on Saturday 26th.
And if you'd like flowers, go to FLOWERBX for the best flowers in London. That's what we do. 

Salame al Barolo, Taggiasca Olives, Fennel and Parmesan Grissini

Tagliarelle with Mascarpone and Pangrattato 

Cornish Red Chicken with Black Truffle

Broad Beans Sott'olio

Tuscan Roast Potatoes 


Artichokes alla Romana 

Braised Italian Spinach

Blood Orange Cake

---