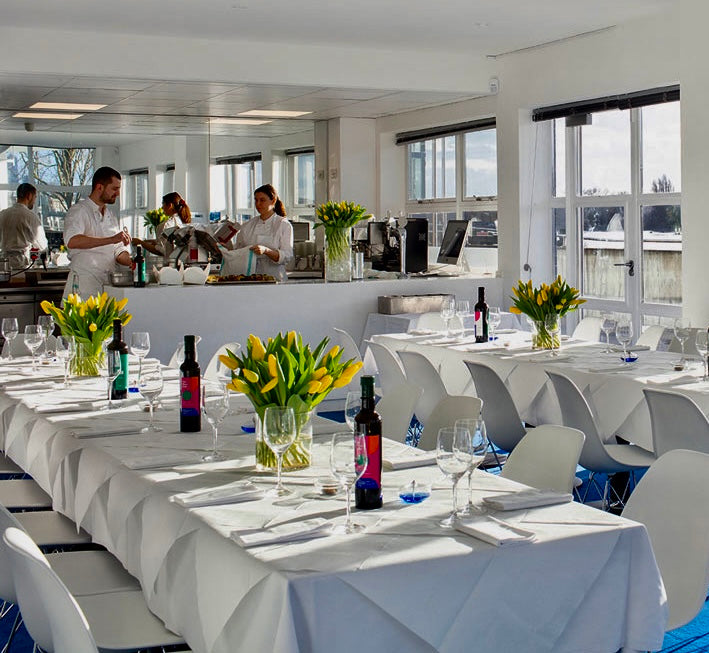 Our Private Dining Room
We love Sylvia's—our private dining room on the river, just steps away from The River Cafe—for celebratory lunches and dinners, corporate meetings, wine tastings, family reunions, and parties up to 40.
From the moment you reserve Sylvia's, the room is yours to curate and create the event you would like.
Manon Aschner
, our Events Manager, will take care of you.
The River Cafe classics, Devon Crab Spaghetti, Turbot, caught off the shores of Dorset. Ravioli, handmade with wood-roasted pumpkin or winter greens, and Cakes and Ice Creams from our pastry kitchen next door.
Our chefs will talk you through ingredients that are in season and what they are cooking right now in the restaurant.
Christophe Decoux, our wine buyer, will share a range of wines from our list to pair with your menu.
Then, just say what flowers you'd prefer, which cocktails, and whether you would like Ollie Muxworthy to play the piano or bring your own playlist.
Hosting your party in Sylvia's will allow you to have The River Cafe experience of warm service and delicious Italian food in an intimate yet vibrant setting.
We love Sylvia's—and think you will too.
Sylvia Elias, mother of Ruthie Rogers. 1916- 2006
---