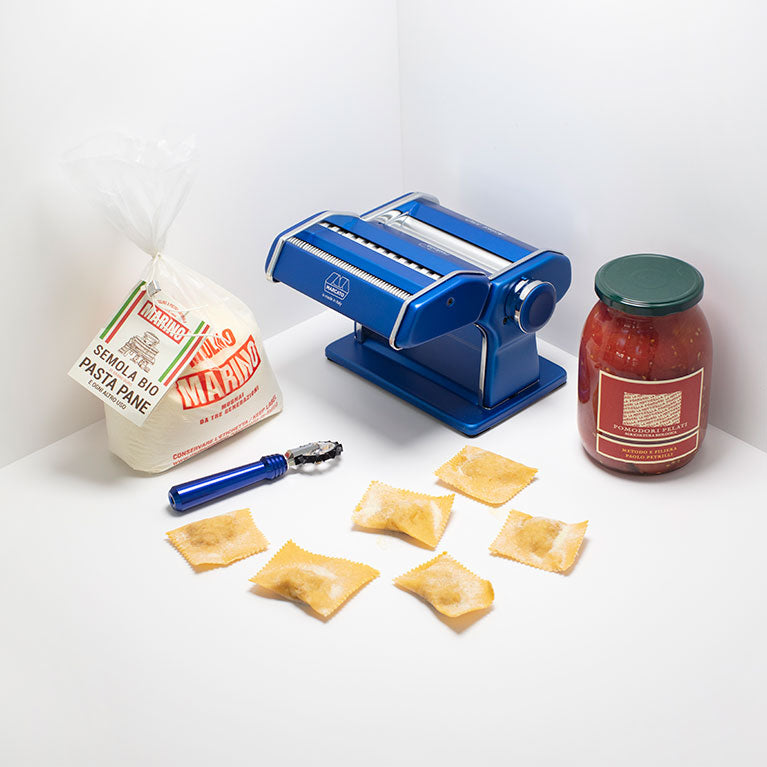 Pasta at home
Zoe Donnely   Photo Jean Pigozzi   2017
Marcato Pasta Machine. Perhaps you might like to give this beautifully designed Marcato pasta machine to your friend, or a colleague you work with.
Or, to your father because June 20th is Father's Day. 
We have chosen this machine because it is the right size and price for a domestic kitchen (our chefs have them in theirs), and because it easily rolls out tagliarini, tagliatelle, papadelle, thin sheets of pasta for ravioli, and more.
We will send you large ball of dough from the River Cafe kitchen with the machine!
 
Drawing by Rose Gray

Fresh pasta has a silky texture and a rich flavor that is far better than any dried version you can buy. It is easy - the most challenging part is having the confidence to try making it at home.
Marcato Pasta-Cutting Wheel. This small tool is ideal for cutting fresh pasta and has attachments for cutting clean lines, small crimped ravioli edges or wavy edges for pappardelle.
Ravioli Stamp. This ravioli stamp is the easiest way to cut out rounds of stuffed pasta.
Paolo Petrilli Tomatoes for slow cooked tomato sauce and Semolina flour are both available for you in our shop. The Marcato makes it simple to make delicious ravioli.
Shop The River Cafe Gift Voucher.
Chose the value of your gift voucher and we will deliver it to your recipient with a personal message from you.
Drawing by David Chipperfield  

Visit Shop The River Cafe to place your order.
---