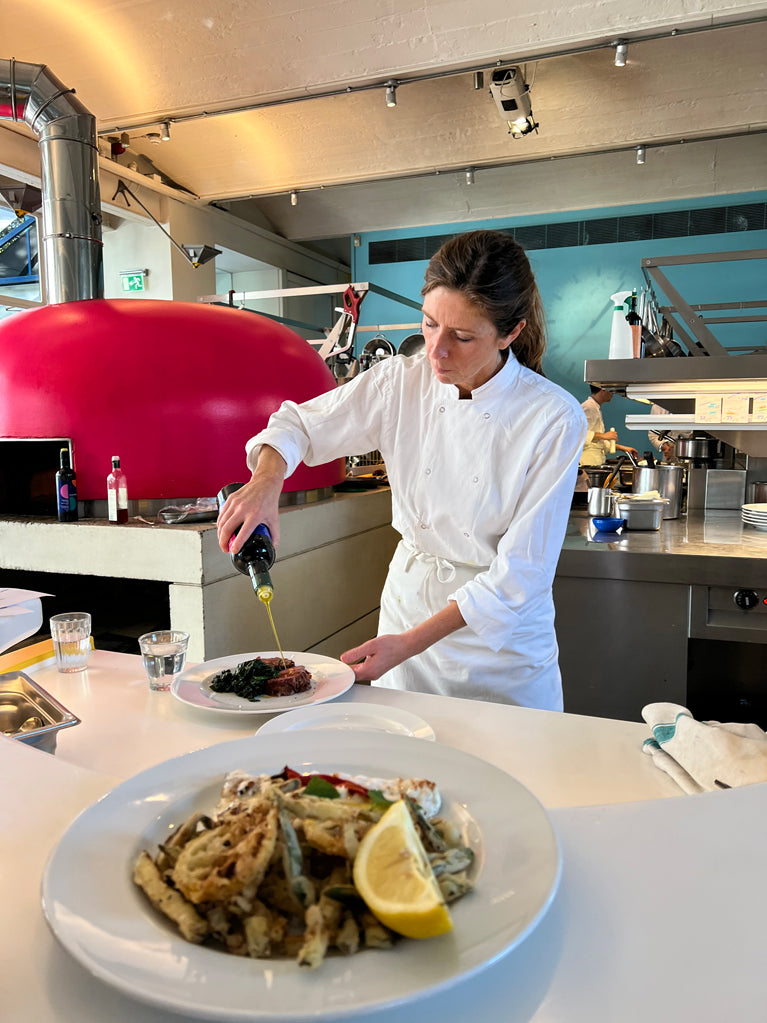 Pumpkin & Puntarelle
Sian Wyn Owen    20 October 2021.     Photo Matthew Donaldson
It is easy to fall in love with autumn, a time when Italian vegetables find their way to The River Café.
Delicata pumpkin is roasting in our wood oven with oregano, we are mixing fine slices of cicoria with anchovy and rosemary, and cooking orecchiette with cime di rapa and black olives for a uniquely Pugliese pasta. 
All are delicious on their own as a vegetarian dinner, or with a spatchcocked chicken we have marinated in herbs and olive oil for you.
Take a walk in the crisp air, kick the golden, orange and red leaves, feel cosy in the early nights. Autumn is easy to fall in love with, for sure. 
Puntarelle Alla Romana
From now until the end of February, Puntarelle alla Romana will be on the River Cafe menu and Shop the River Cafe every day. Crispy, deliciously bitter curls of tender young cicoria tossed with a dressing of anchovies, garlic, vinegar and olive oil.
Cime di Rapa and Black Olive Sauce
We have braised the greens with black Taggiasca olives.
Whole Cornish Red Chicken
A Cornish Red Label chicken, seasoned and stuffed with rosemary, bay, sage and Amalfi lemon - ready for you to roast.
Roasted Pumpkin
Ligurian Delica or Violino pumpkins are wood-roasted -  delicious with grilled or roasted meat and fish, or served with mozzarella or prosciutto as an antipasti.
Pannacotta
We cook the pannacotta with lemon zest, vanilla and a generous measure of grappa, and poach the seasonal fruits to serve alongside. 
Harrison Ford Cloakroom Magazine 
CLOAKROOM is a biannual title, exploring with rigour and wit, the lives, minds and spaces of influential figures across art, fashion and popular culture. The magazine was launched in 2019 by our friend the Editor-in-Chief, Claudia Donaldson, the founding editor of NOWNESS, and a former editor at Wallpaper.
Photography by Matthew Donaldson
Visit Shop The River Cafe to place your order.
---