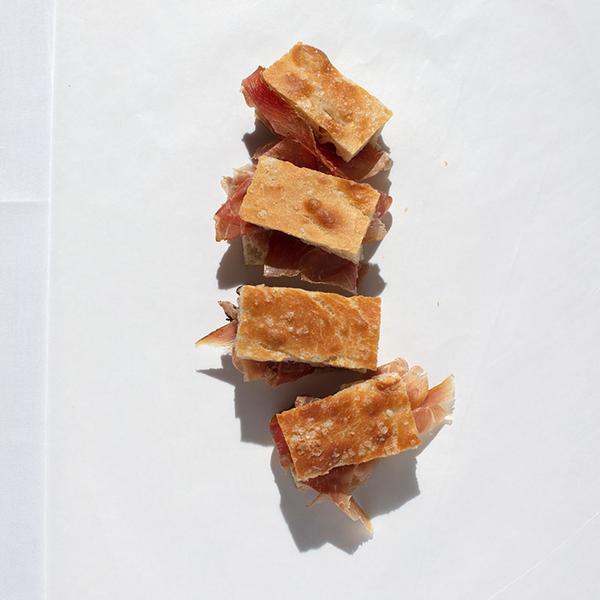 Sandwiches and Salumi
Henri Cartier-Bresson, Picnic on the Banks of the Marne, 1938
Focaccia Sandwiches. Go into any bar or cafe in northern Italy and there will be trays of various focaccia with prosciutto, mozzarella, arugula, and other salumi and cheeses. We make focaccia every day for the restaurant and for the shop.

Prosciutto di San Daniele. This prosciutto with its delicate and slightly sweet flavour comes from the hills of San Daniele in Friuli.

Smashed Chickpeas. Creamy chickpeas, cooked until thoroughly tender with bay and garlic, then blended with new season's olive oil until completely smooth. Serve on focaccia with Salumi, or with Mozzarella and bitter greens.

Culatello di Zibello. Beautiful, complex and the most subtle and rare of all cured meats. It is made in small quantities in the Po River Valley.

Mozzarella di Bufala. Marinated in crème fraîche with basil leaves.

Bresaola Rosa della Alpi is made from a piece of beef that has been aged for a few months, and the most lean of all salumi. We slice it thin and serve with black pepper and olive oil.

Coppa di Parma. Cured with aromatic spices and perfect in a sandwich.

Billecart-Salmon Rosé NV. Why not drink a spectacular glass of champagne with a sandwich or simple plate of salumi. A celebration of both.
Photography by Matthew Donaldson.
Visit Shop The River Cafe to place your order.
---