Strawberry and Almond Tart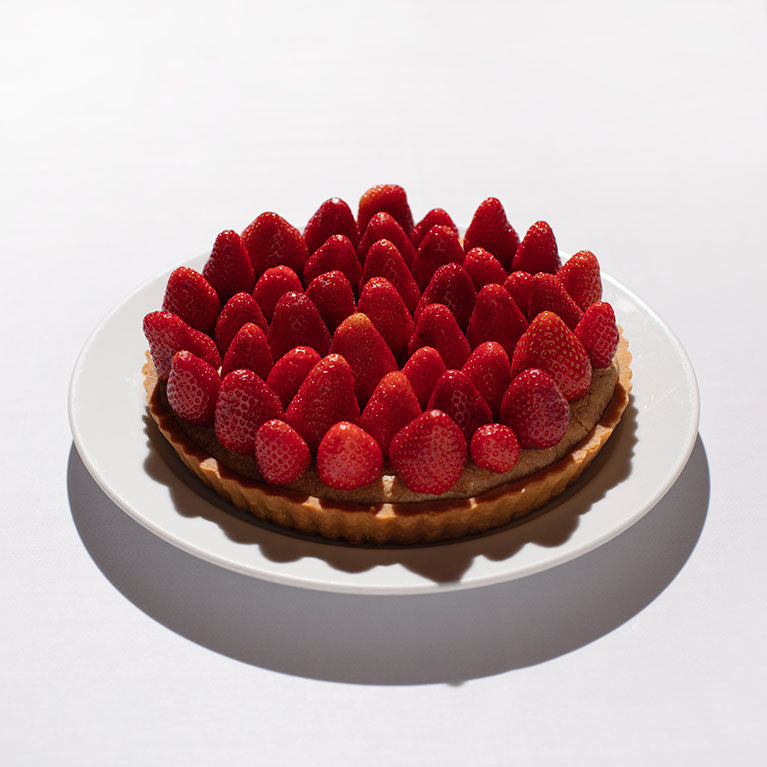 Strawberry and Almond Tart
Ruthie Rogers with J Botella Rogers   Photo Ulla Nyeman for Strawberries & Cream - read the full article here.
Strawberry and Almond Tart    Photo Matthew Donaldson
Strawberries are here.
Our favourite way to eat them is as they do in Italy—simply with sugar and lemon. We love strawberry sorbet, strawberry crostatas, and most of all, this River Cafe classic—Strawberry and Almond Tart, now available in Shop The River Cafe.

If you would like to make it at home, this is the recipe.
The River Cafe Strawberry and Almond Tart
Serves 10-12
 
700g sweet pastry dough
350g unsalted butter, softened
350g caster sugar
350g blanched whole almonds
3 eggs
2 punnets strawberries
 
Preheat the oven 180˚C.

Coarsely grate the pastry into a 30cm loose–bottomed fluted flan tin, then press it evenly on the side and base. Do this as quickly as possible. Bake blind for 20 minutes until very light brown, remove from the oven and cool.

Reduce the oven temperature to 150˚C.
 
Cream the butter and sugar until the mixture is pale and light. Put the almonds in a food processor and chop until fine. Add the butter and sugar and blend, then beat in the eggs one by one. Pour into the pastry case, and bake for 40 minutes. Cool.
 
Place the strawberries on the tart—we do this by putting one in the centre and working outwards.
Serve with créme fraîche.
Drawing by Harry McKenzie, chef in The River Cafe

We are offering free UK delivery until the 11th of June on orders over £100. Use the code SPRINGDELIVERY21 (one use per customer).

Visit Shop The River Cafe to place your order.
---