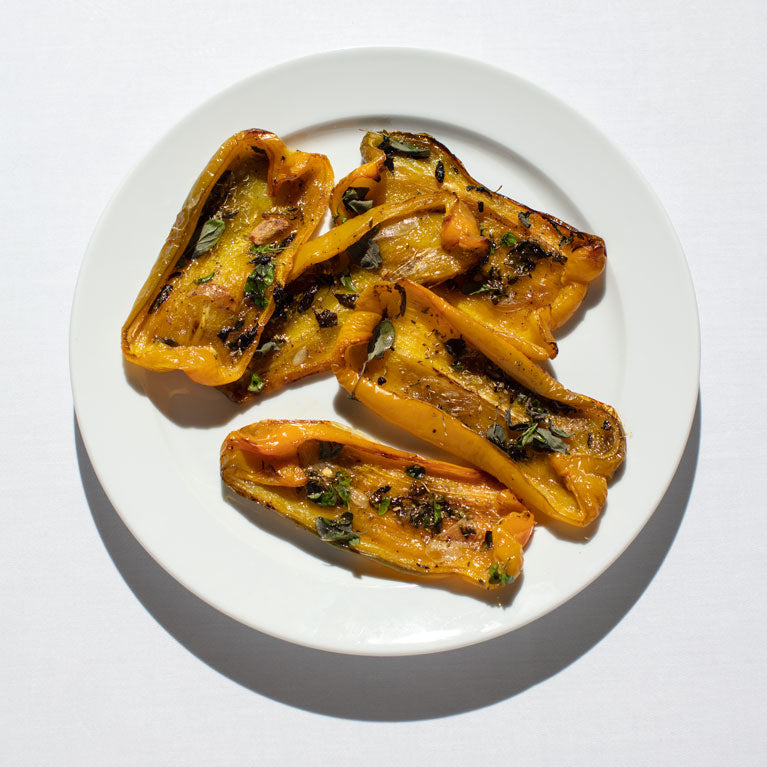 Summer vegetables
Ed Ruscha   1976
There are days, especially in summer, when vegetables are all you want to eat. Still, they do take a lot of time and effort to prepare—shelling borlotti, boiling peas, peeling red and yellow peppers, chopping zucchini, picking herbs.
Exhausting. 

Shop the River Café chefs will do all this for you.
The Vegetable Box Set does more.

Have the vegetables on their own, or grill a piece of fish or meat, and dinner is done.
Easy.
Summer Peas Sott'olio
Datterini Tomatoes
Grown in Sicily. Slow-roasted with thyme and garlic in The River Cafe.
Roasted Yellow Peppers
Wood-roasted with slivers of garlic and finished with basil.
Marinated Zucchini
We boil pale green Trombetta squash, Roman & yellow zucchini, chop them and marinate in extra virgin olive oil and basil. Delicious as a salad with slivers of Caciotta Etrusca cheese, also in our shop. 
Grilled & Marinated Red Peppers
Chargrilled, peeled and then marinated with Volpaia red wine vinegar, marjoram, garlic and extra virgin olive oil.
Seasonal Vegetables Box Set
You can order our vegetables à la carte, or as a special three-course vegetarian meal in a box, with no cooking required.
River Cafe Focaccia
Mozzarella di bufala with roasted yellow peppers, oregano and braised Italian spinach
Wood-roasted Violetta aubergines with grilled red chillies, fresh cannellini beans, slow-roasted San Marzano tomatoes
Lemon, Almond & Polenta Cake with baked Italian Apricots
Photography by Matthew Donaldson

Visit Shop The River Cafe to place your order.
---