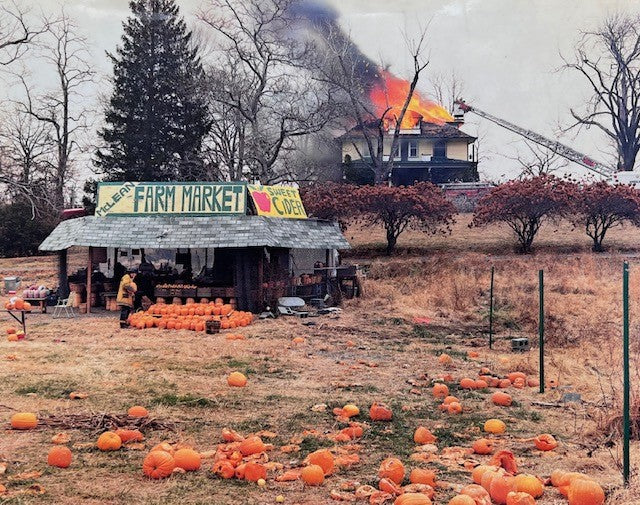 Thanksgiving
American Prospects    Photo Joel Sternfeld
One month from today—November 24–is Thanksgiving.

Shopping, preparing and cooking this special meal takes a lot of time, and Shop The River Cafe is here to do this for you.

We have, of course, the traditional Turkey and stuffing, but with an Italian influence. The free-range bird is brined for 24 hours—ready to be roasted with myrtle, bay and sage from our garden. 
 
From a friend in Tuscany, comes a recipe for a delicious bread stuffing with chestnuts, fennel, and pancetta. 
 
Seasonal dark green Cavolo Nero is braised in Selvapiana Olive Oil, sweet potatoes are wood roasted or, if you prefer, there are Roseval potatoes roasted with radicchio.
To begin, choose between poached Scottish langoustines and Chestnut Pumpkin soup, salty and crisp Puntarelle alla Romana, or why not delicate Gnocchi with parmesan and sage. 
From our pastry kitchen, traditional Pecan Pie with maple syrup or our dense Pressed Chocolate Cake. 

All of the dishes can be ordered individually, so you can create the meal you want. 
 
Celebrate this Thanksgiving feeling rested, relaxed and, most of all, thankful.

Remember to place your order. The deadline is Monday November 14th and be mindful that we have a limited number of turkeys this year. 

Poached Scottish Langoustines with Aioli

Gnocchi alla Romana
Rich semolina gnocchi with parmesan and butter.

Puntarelle alla Romana

Pumpkin, Chestnut and Farro Soup
The chestnuts are wood-roasted and peeled then simmered together with Violino pumpkin, onion, bay and chilli in chicken stock.

Tacchino Arrosto
Kelly Bronze free range Turkey, brined and stuffed with River Cafe garden myrtle, bay and sage.

Farcitura
Tuscan bread stuffing with fennel, chestnuts and pancetta.

Cavolo Nero 
Braised with River Cafe extra virgin olive oil.

Patate Dolci
Wood-roasted sweet potatoes with marjoram and chilli.

Pressed Chocolate Cake
A flourless, rich, dark chocolate cake.

Pecan Pie 
Our River Cafe short pastry base filled with maple syrup, rum and layers of whole pecans.

Iittala Large Roasting Dish


AVAILABLE FOR PRE-ORDER NOW
We have selected a celebratory Thanksgiving menu for you to choose your favourite dishes from. 
DELIVERY
Available for delivery to:
Greater London addresses between 18th and 26th November  
Other UK addresses between 18th and 25th November
Deliveries can arrive up until 8pm, so please book your order for a day ahead.
AVAILABILITY
Please note: We have a limited number of turkeys available this year. They will be available for pre-order while stocks last.
---