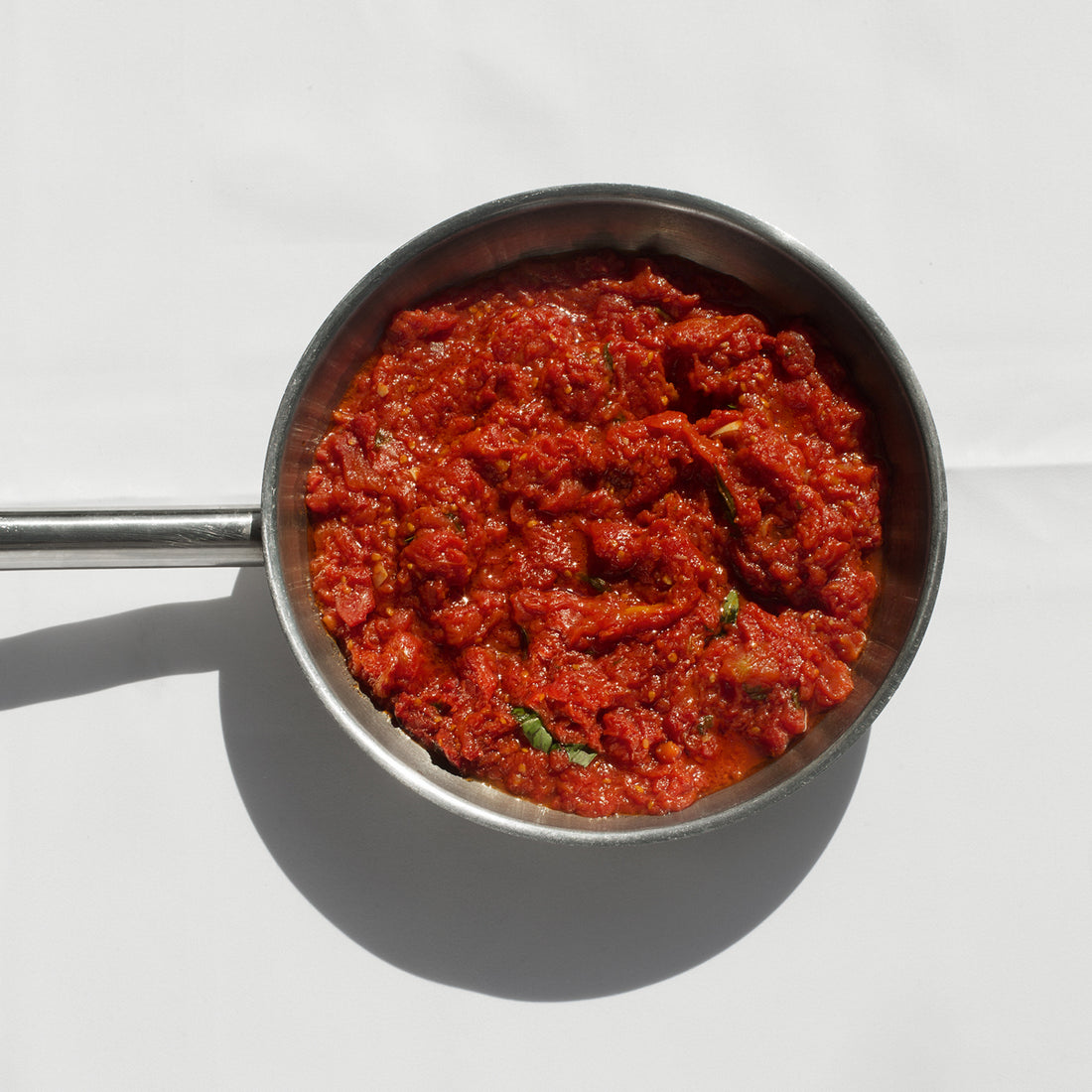 Slow-cooked Tomato Sauce
Slow-cooked Tomato Sauce is remarkable not just for what it has—sun-drenched tomatoes from Puglia, Tuscan estate-bottled extra virgin olive oil and fresh garlic—but for what it doesn't have. There are no onions, celery, carrots, cream or other ingredients.
It is our last meal, our desert island dish and unanimously our favourite sauce—the symbol of what Italian cooking means to us, honest, simple, bold.
And delicious.
Here's the recipe.
Slow-cooked Tomato Sauce
Serves 6-8

3 tablespoons extra virgin olive oil
2 garlic cloves, peeled and cut into slivers
2 x 1kg jars peeled plum tomatoes, drained of their juices

Heat the olive oil in a large saucepan over medium heat and add the garlic. After 5 minutes add the tomatoes and stir to break them up.

Cook slowly, stirring occasionally, for about one hour. When ready, the sauce will be dark red and extremely thick, with no juice at all, and the oil will have come to the surface.
River Cafe Extra Virgin Olive Oil
The 2020 extra virgin olive oil is elegant, with a beautiful intense green colour.

Petrilli Organic San Marzano Tomatoes
Paolo Petrilli organic tomatoes are grown on an organic farm, La Motticella, near Lucera in the region of Puglia. The long San Marzano tomatoes are preserved using traditional, organic methods. The tomatoes are hand-picked, peeled and packed into jars with a fresh basil leaf from Paolo Petrilli's garden. We cook with them every day in the River Cafe kitchen.
Cipriani Tagliolini
Extra fine and delicate tagliolini from Cipriani—once you have had this pasta you will never have any other.
Tagliolini with Slow-Cooked Tomato Sauce
Gentile Penne
Gentile is an artisanal pasta producer in Gragnano that uses the finest durum wheat semolina. Skilful production and slow drying ensure that this pasta preserves its aroma and firmness.
Penne with Slow-cooked Tomato Sauce—the most comforting pasta and the one children always choose.
De Buyer Non-Stick Sauté Pan
Making the sauce in a wide pan makes it faster to cook and easier to toss.
Peter Doig   Red Lion  
Photography by Matthew Donaldson.

Visit Shop The River Cafe to place your order.
---