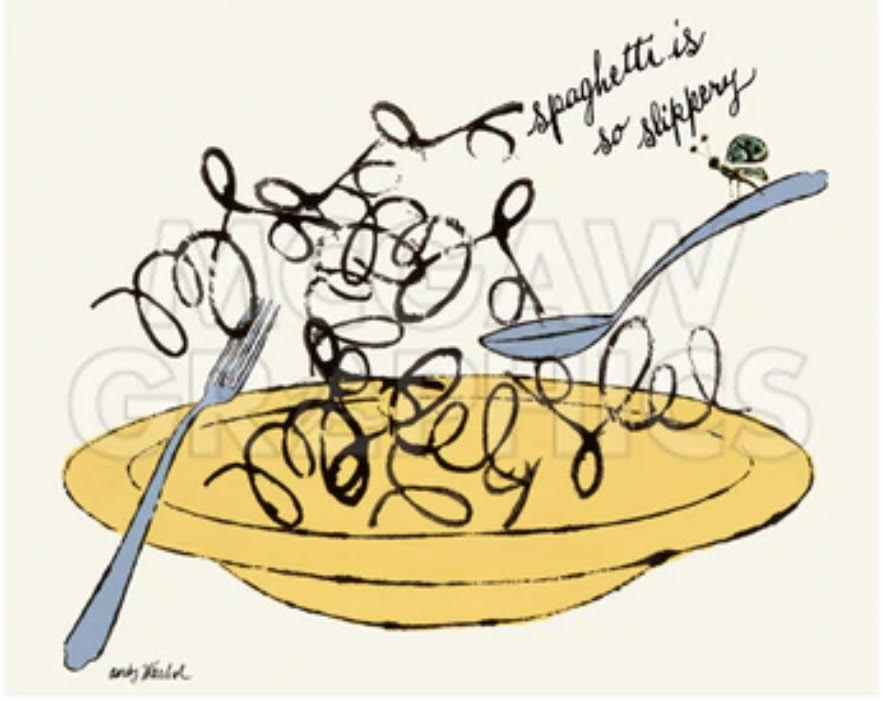 Spaghetti
Andy Warhol          Spaghetti is So Slippery 1958
In Italy, the best pastas depend on the vegetables or fish in the market, or the type of meat sauces which go best with the seasonal weather.
These three pasta sauces are being cooked now in The River Cafe and are in the Shop ready to be delivered to you.
Cavolo Nero and Pine Nut sauce is vibrant and dark green. The Sausage Ragu is made with Italian pork and fennel sausage, slow cooked in Chianti, tomato and cream. For the Crab Sauce which goes with the Tagliolini, we boil fresh Devon crabs, then marinate them extra virgin olive oil, wild fennel and red chilli. 
All of these sauces are made to order with a range of dried pastas available in all shapes and sizes.
As you can see below, we offer a beautiful white bone china bowl to serve whichever pasta you choose to make. 
Slippery, or not.
Tagliolini with Marinated Crab, Wild Fennel and Chilli

Cavolo Nero & Pine Nut Sauce

David Mellor Pasta Bowl
---