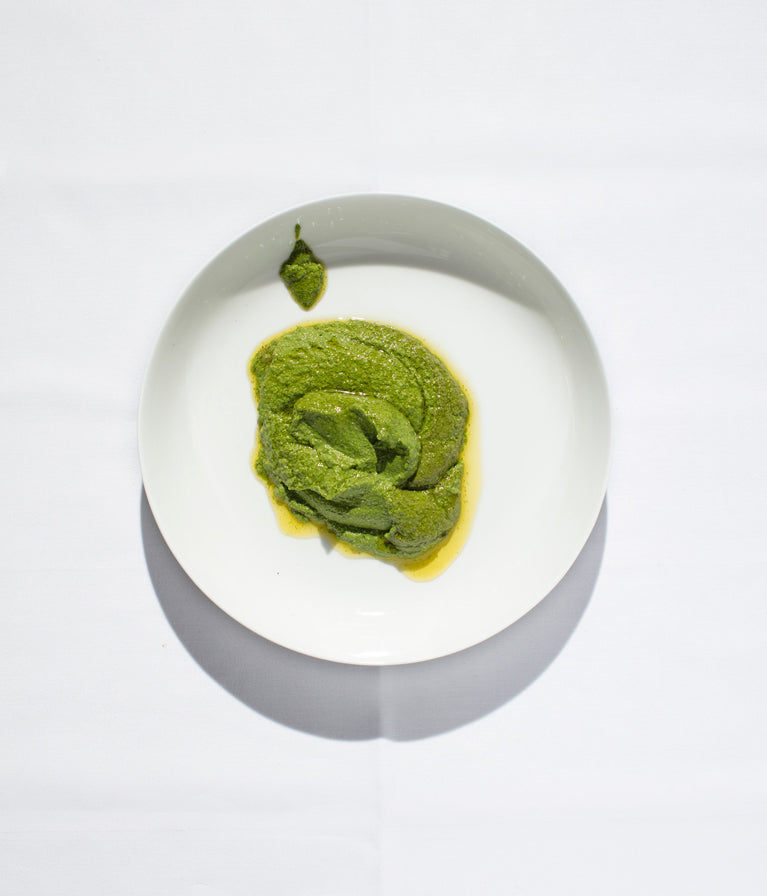 Pesto
Pesto alla Genovese. Pesto, made with basil, pine nuts, garlic, parmesan and pecorino, is local to the Cinque Terre—five small villages on the Mediterranean between Genoa and Pisa. Many summers ago we were shown how to make this vivid creamy pesto by Gianni Franzi in Vernazza, where fragrant basil grows on terraced cliffs going down to the sea. It is best with trofie, the twisted spiral shaped pasta of Liguria, but we also like pesto with Casarecce which has grooves in the middle to hold the sauce. In The River Cafe we add a generous spoonful of pesto (never heated) to our seasonal zucchini and minestrone soups. Shop The River Cafe has the soups, bags of pasta, the parmesan and the olive oil and the pesto. We will send it all to you—with the promise of the summer we have been waiting for all year.

Casarecce with Pesto alla Genovese. Casarecce is a pasta more often served with sauces from Sicily, but we think it goes perfectly with pesto.
Trofie with Pesto alla Genovese. Trofie is the traditional pasta made with just flour and water for pesto in Liguria, and often combined with green beans and finely sliced potato.

Minestrone Primavera with Pesto. This soup is from the first River Cafe Cook Book—peas, broad beans, green beans, zucchini. And pesto.

Roman Zucchini Soup. A summer soup of Roman zucchini and zucchini flowers cooked with a little cream, basil and parmesan. Delicious with pesto.

Pesto ingredients Matthew Donaldson
Photography by Matthew Donaldson.
We are offering free UK delivery until the 11th of June on orders over £100. Use the code SPRINGDELIVERY21 (one use per customer).
Visit Shop The River Cafe to place your order.
---